A full-service event: concept, design, print and management
FWD Motion has worked with Arrow on event branding for the Info Security event at Olympia for the past three years and we simply couldn't wait to get our teeth into the 2017 campaign.
Venue sourcing resulted in a hidden gem of a find within Olympia itself. A blank canvas to unleash our creativity upon.
Through campaign idea sessions both internally and with the client, and inspired by the venue, we decided to focus in on the underground scene of security. The sheer amount of space available, coupled with the disused feel of the venue lead us to devise the concept of the art of security. Picking up on street and urban art styles, twisting classics masterpieces and juxtaposing security messages with art history and interpretation.

Pre-event prep: sourcing props, print and build
Through several site visits, measurements (and remeasuring) we designed a collection of installation pieces, wall and floor graphics, custom furniture, props, a hot desking area and more.
Once the designs were finalised and approved, we set about sourcing recyclable items we could use for the construction of furniture and other pieces.
All artwork was set and printed in-house from large format through to the wall, floor and vinyl printing. Items were sprayed in-house and then built, these included wooden pallet tables, and one metre tall spray can tables. Once the large items were completed, it was shopping for eclectic props which were on theme to help dress up the venue.

A venue in transformation: installation
The art of security was more than just a design and print project, FWD Motion is a full service digital agency and this project allowed us to show our skills in design, dev, print, project management, installation, event management (pre, during and post) and removal/clean up! A true team effort, this touched all areas of the studio and was a project loved by us all.
Travelling to venue the day before, our team managed delivery and venue set up, transforming the empty space into an unrecognisable version of itself: a true artist's playground.

A venue in transformation: installation: Event assets
As well as event branding we created email communications, social posts and printed event collateral utilising a mixture of studio copywriting and content supplied from the client.
All assets were designed utilising the event branding, whilst still adhering to Arrow's brand guidelines for print and electronic communications.
Our development team are accustomed to working with the Arrow marketing team to turnaround digital communications quickly and in line with the corporate brand.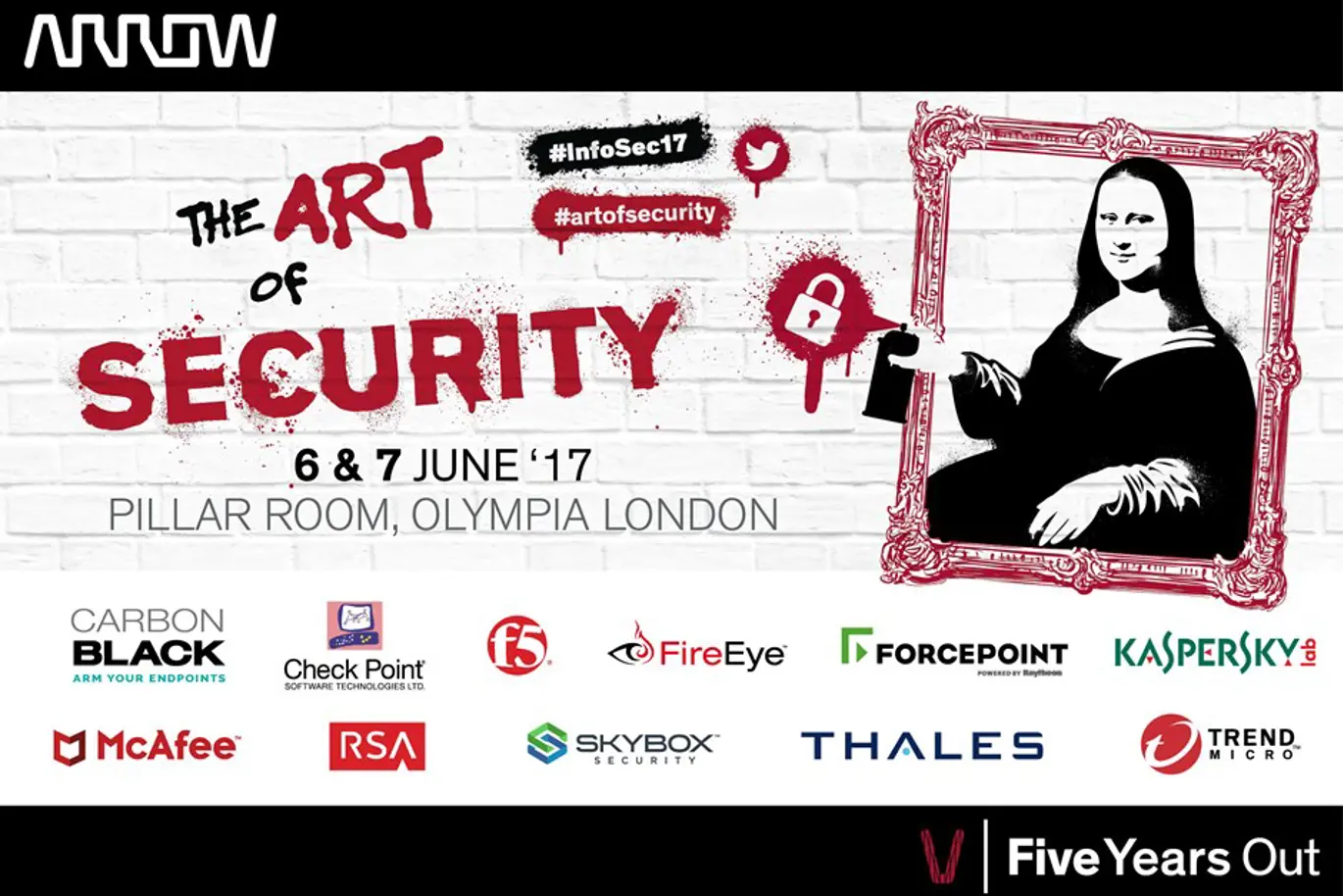 Eventing extras: life-sized telephone box anyone?
Ideas generation and brain storming is great fun and can lead down wacky and wonderful avenues, so when a red telephone box was added to the wish list – we accepted the challenge and went ahead built one! Designed and constructed actual size from mdf, we decided it needed to be more than just an event prop, so customised the unit to be a charging area for phone, tablets and laptops.
The branding of this event enabled us to go above and beyond, not only with the décor and furniture, but with props as well. Alongside the telephone box, we also devised a branded Arrow The Hub hot desk area, podcast studio and caricature station, complete with event branded artist's pads!

Results and feedback
The event was a huge success with a turnout of over 600 people over two days accounting for more than 50% of Arrow's channel partners. Social and email engagement reach and rate was over 300,000 and the event received press coverage from all the major IT publications. Feedback from the event was all exemplary, with Carbon Black commenting: "A massive thank you to you and your team for putting together "Art of Security" at Infosec. All at CB were so impressed with the venue, organisation and the entire environment…"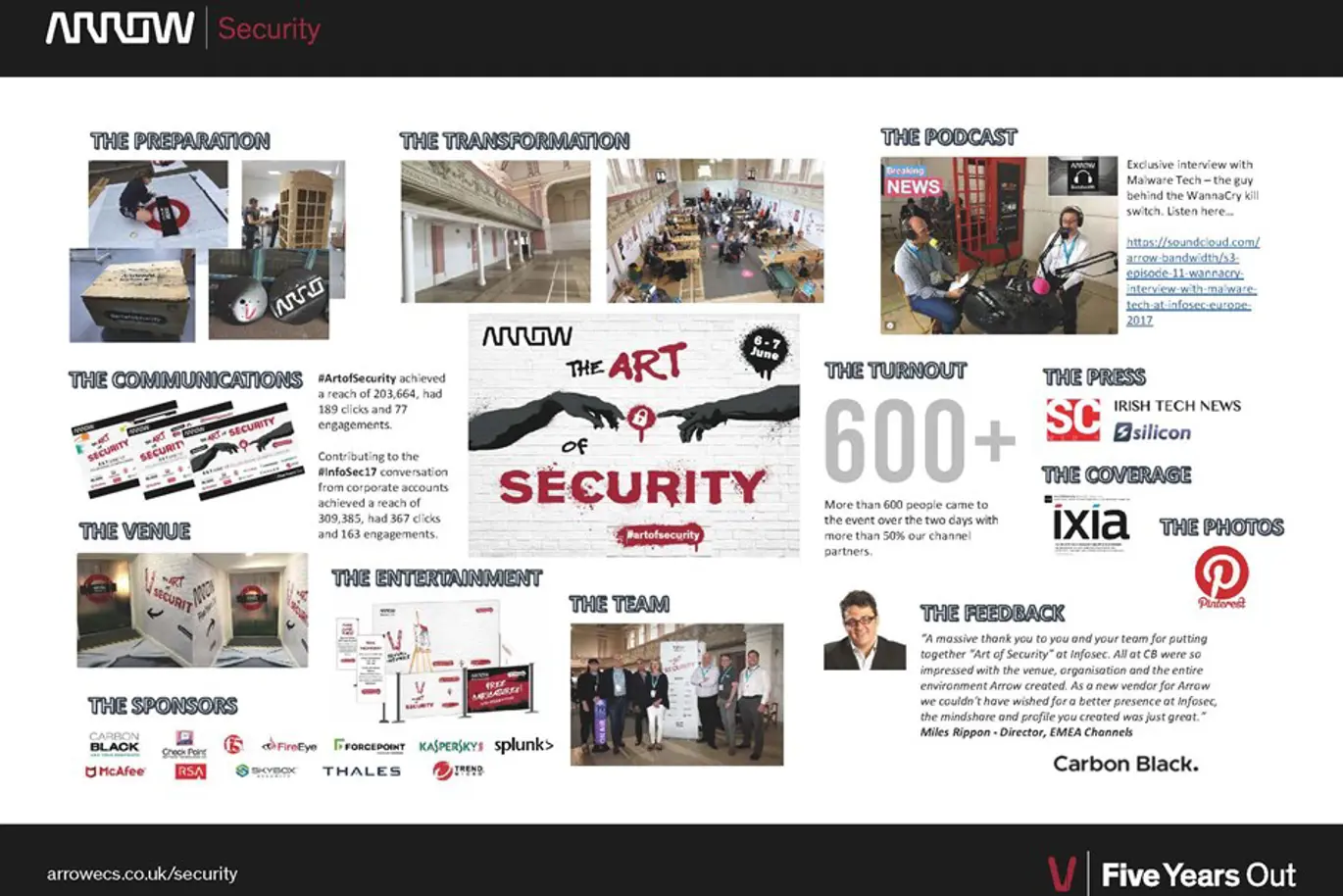 Post marketing activity

During Infosec a podcast was filmed for Kaspersky Lab, and post event FWD were tasked with the marketing of this content over social media. The campaign brought together the superhero theme already in use as a brand for Kaspersky Lab, and interlinked it with the art of security brand. A PDF comic was designed featuring the three industry experts and podcast messaging. This was then created into a minute long motion graphic, promoted over social media via animated GIFs and static jpeg comic frames. The social campaign, both paid and organic, was managed and delivered via the FWD Motion team.

The art of security was a fantastic project which touched all areas of the studio. A true end-to-end campaign, we can't wait to get our teeth sunk into this again next year! Who knows where the brief will take us next time. Watch this space.